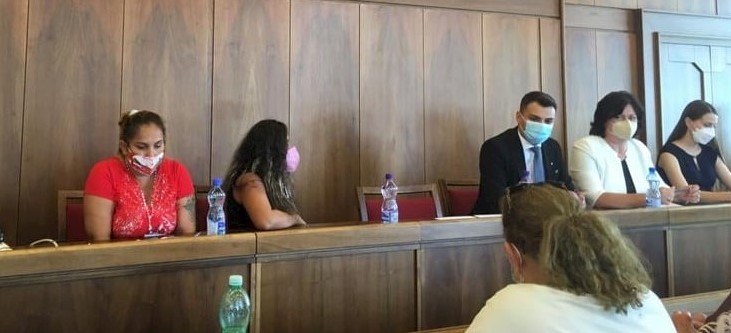 Illegally sterilized Roma women spoke at the meeting of the Slovak parliamentary committee for Human Rights
On 21 June 2021, together with two Roma activists, we attended a meeting of the Committee of the National Council of the Slovak Republic for Human Rights and National Minorities (Parliamentary committee) and talked about the need to finally take measures to ensure justice for illegally sterilized Roma women. The meeting took place at the initiative of the Slovak Ombudswoman, with whom we promote common goals.
Mrs. Veronika, one of the Roma women injured, told the members of the committee present at the session:
"We are Roma activists who have been illegally sterilized. With the support of Poradna we have been fighting for justice for all injured women for years. Here we demand the adoption of a law so that the state can compensate us. We wish that what happened to us no longer happened to any woman."
At the meeting, we emphasized, among other things:
"Compensation will never remedy the suffering caused by illegal sterilisations to victims. But Slovakia can alleviate this suffering by at least a little and compensate for the fact that it is a truly democratic and legal state."
After the committee session, we also spoke with Roma activists at a press conference, the record of which can be viewed here: https://www.youtube.com/watch?v=p9g36fVwp8E
We believe that the members of the committee will, within their competences, promote the measures we have proposed so that, after years, the aggrieved Roma women will finally come to justice.
We thank you all those who have supported and continue to support the injured Roma women as well as us in Poradna on our almost 20-year journey to justice.
The costs associated with attending the meeting in Bratislava were covered thanks to financial support of Slovak-Czech Women´s Fund.